TECHNOLOGY SOLUTIONS
Innovative Technology
Deliver more value to your workplace.
Deliver more value to your workplace.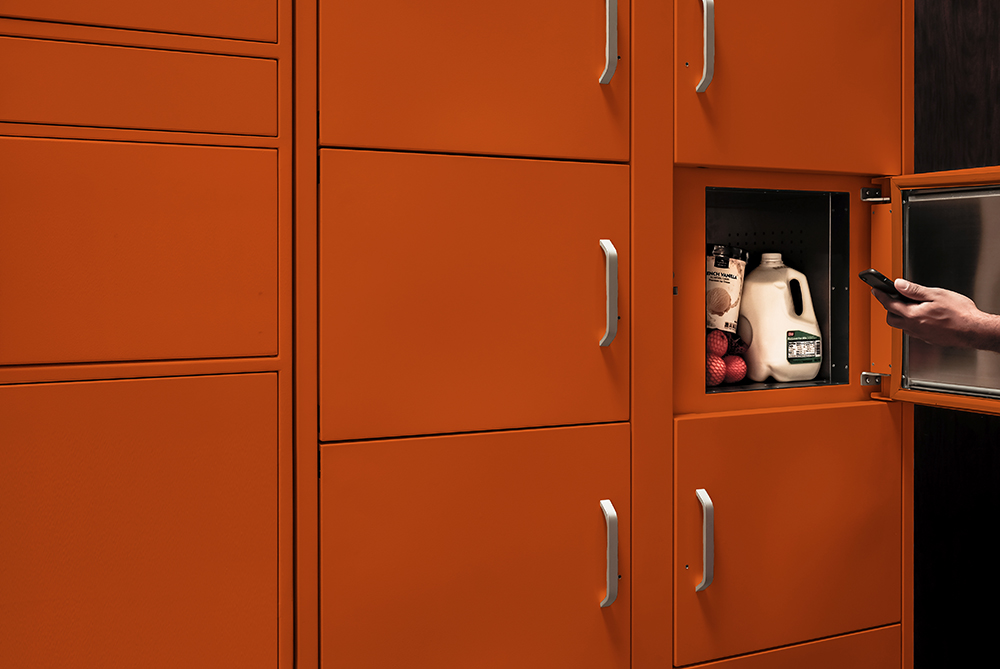 Optimize services and maximize value with Intelligent Delivery Lockers
Get efficient and convenient drop-off and pick-up with a scalable, and customizable electronic locker system that gives both onsite, remote workers and visitors a space of their own. Packages are delivered into an electronic locker, and notifications are sent to the recipients with a special unlock code to pick up their items at their convenience.
Our high-tech package lockers, called PoDs, keep parcels safe and secure. The software powering the PoDs automates pick-up and drop-offs for couriers, and employees.
Key features and benefits:
- Customizable locker configurations allow you to create your own bank that fits your unique space and package management needs
- Automation technology eliminates the need for staff to sort and deliver packages
- Secure PoDs solve package theft issues
- Robust administrative tools create chain of custody reports and other powerful metrics to better inform big decisions
See how we can help your business run more efficiently.
Key Features:
• Courier Reconcile
- Start chain of custody once packages are delivered
• Release to Recipient
-Multiple delivery options from desk to mailroom to smart
lockers
• Priority Delivery
- Manage high priority deliveries before 10:00AM daily
• Office Maintenance
- Conference room cleanup
- Printer and copy machine maintenance
- Kitchen cleanup and maintenance
Contact us for more information.
Completely automate package and delivery receiving and overhead from delivering packages to residents!
Empower Your Stakeholders
Give your stakeholders 24/7 access to their receive deliveries and make it simple for them to ship deliveries.
Smiota's package locker and mailroom software solutions offer complete chain-of-custody and security feature so make sure deliveries are never lost!
Learn More
Get in touch to learn more about our Technology solutions.